H.P. Lovecraft Store
H.P Lovecraft is among the innovators of horror, and, sci-fi. Arriving at a party in a Friday the 13th scary shirt is cool, but showing up with a Lovecraft Cthulhu shirt proves you're a real horror fan. Nightmare Threads has one of the best collections of H.P. Lovecraft T shirts readily available and all of these Lovecraft tee shirts are 100% cotton and feature dark and mystical imagery from Lovecraft's stories.

Great Selection of Lovecraft Clothing
Nightmare Threads gives you the best selection you've ever seen. Our horror clothing is loved by horror fans all around the world
Lovecraft Apparel on Sale
Right now all of our H.P Lovecraft merchandise is discounted for you to save. Sound good?
Free Shipping on Orders Over $75
On all our horror apparel orders over $75 to the United States. You will get reward points everytime you hit order button. Just sit back and let us do our job, okay?
Liquid error (templates/page.gem-37792055362-template line 16): product form must be given a product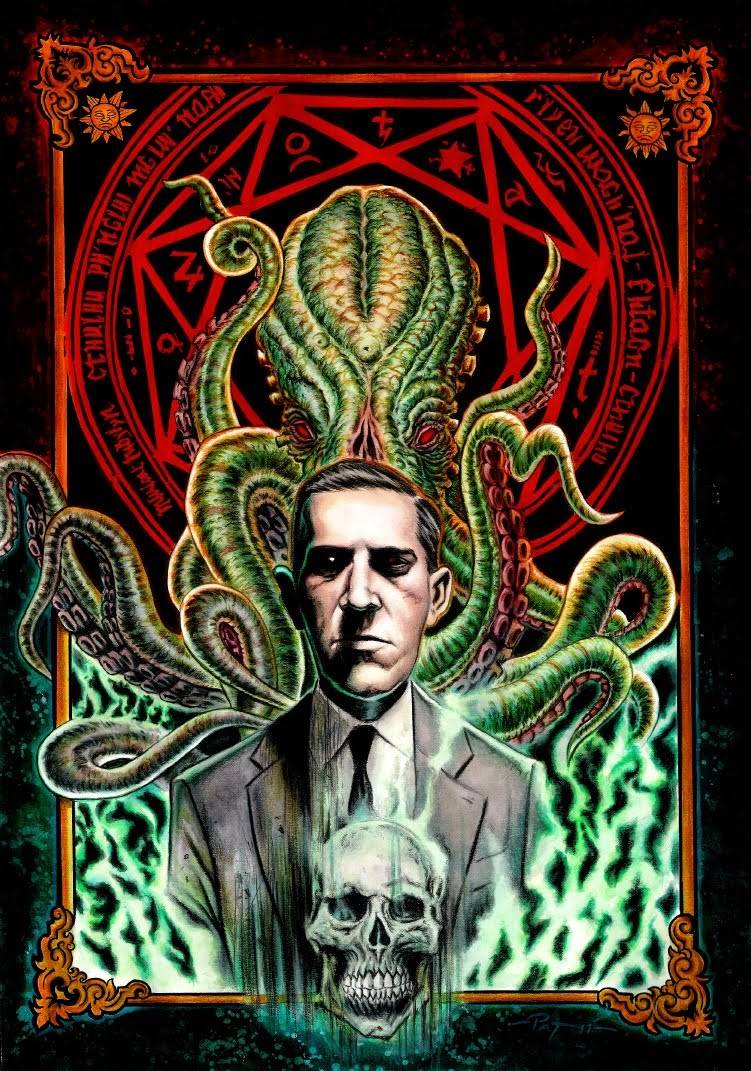 In 1890, the master of fantastical scary tales, Howard Phillips Lovecraft, was born, in Providence, Rhode Island. H.P. Lovecraft had an uncommon childhood noted by tragedy. Lovecraft's father was a salesperson who was stricken with a mental disorder brought on by untreated syphilis when Lovecraft was only 3 years old.
A sickly child, Lovecraft spent a number of his early years at home. He ended up being a passionate reader, feeding on Edgar Allan Poe's writing and began a unique interest in astronomy. As a young adult, he attended Hope Secondary school, but he endured a nervous breakdown before graduating. Lovecraft became a recluse for several years, studying all night on top of composing horror stories. During this period, he published several pieces on astronomy in various newspapers.
Lovecraft began as a true journalist in 1914. A year later, Lovecraft started his self-published periodical The Conservative for which he wrote numerous. While he had written fiction all his life, Lovecraft became more serious concerning composing horror tales around 1917. A number of these very early works were influenced by the works of Lord Dunsany, an Irish writer of scary tales, along with Lovecraft's longtime idol Edgar Allan Poe.
In 1923, horror journal, Weird Tales, got rights to several of Lovecraft's stories, launching his successful literary career. The following year, he wed Sonia Greene. The couple lived together in New York for 2 years before divorcing. Lovecraft then went back to Rhode Island and started working on some of his most extraordinary stories. "The Call of Cthulhu" was released in 1928. "The Call of Cthulhu" highlighted Lovecraft's ability to create a transcendent sort of fear.
Lovecraft presented viewers to the first of several supernatural beings that would haunt mankind. Components of this story would come back in other tales-- collectively understood as the "Cthulhu Mythos."
In his last years, Lovecraft was hardly able to sustain himself. He took editing as well as ghostwriting work to attempt to carve out a living. On 15 March 1937, Lovecraft passed away after a losing battle with cancer. He left over 60 narratives, including The Case of Charles Dexter Ward and "The Rats in the Walls". Lovecraft's death was mourned by his devoted following of authors and fans. Two of these good friends created a publishing firm called Arkham House to carry on Lovecraft's legacy.
Lovecraft has actually earned higher acclaim after his death than he enjoyed while alive. He has been a muse to such writers as Peter Straub, Stephen King and also Neil Gaiman. His stories have likewise functioned as the inspiration for many films, consisting of 2011's Hunters of the Dark in addition to 2007's Cthulhu.

Lovecraft's Scariest Creations

The focus of Lovecraft's tale "The Call of Cthulhu". Cthulhu is an impressive entity that exists "dead but dreaming" in the city of R'lyeh, an area presently sunken below the Pacific. Cthulhu appears in different monstrous and demonic forms in very early myths of mankind. Cthulhu is the high clergyman of the Great Old Ones, unnatural beings who ruled the Earth before humankind. It is stated that they will return, causing worldwide insanity and mindless violence before ultimately displacing humanity.

An arcane book featured in the horror tales of H P Lovecraft. Though Lovecraft made reference to some real book, the "unmentionable Necronomicon of the mad Arab Abdul Alhazred" was completely his mind child. Throughout the Fifties and Sixties, Lovecraft's books got such a following amongst university students that numerous hoaxes were created around the Necronomicon but no true version of the book is known to exist.

https://gem-3910432.netShub-Niggurath who is often connected with the expression "The Black Goat of the Woods with a Thousand Young", is a deity in the Cthulhu Mythos of H. P. Lovecraft. Lovecraft also referred to her as "Lord of the Wood" in his story "The Whisperer in Darkness" Shub-Niggurath is first mentioned in Lovecraft's tale "The Last Test" she is has not appeared Lovecraft's stories, but is regularly called upon in incantations.
NIGHTMARE THREADS HP LOVECRAFT COLLECTION
MORE HORROR CONTENT ON OUR

INSTAGRAM